Ramen Champion Pte Ltd
Ramen Champion – 1 outlet
Una Una – 1 outlet
EC House Pte Ltd–Singapore
EC HOUSE – 32 outlets
LA Barbershop – 5 outlets
EC Premium – 1 outlet
LA KIds Cowboy – 1 outlet
Global Retail Partners Pte Ltd
Eat At Seven – 1 outlet
Una Una – 1 outlet
SG Retail Partners Pte Ltd
Japan Gourmet Hall Sora – 2 outlets
Onsen Retreat & Spa (Singapore)
Yunomori Onsen – 1 outlet
CYL Scalp Lab Solutions Pte Ltd
CYL Scalp Lab Solutions – 3 outlet
Renaissance Partners Pte Ltd
Unagiya Ichinoji – 1 outlet
Stellate Pte Ltd
Moomin – 2 outlets
White 30– 2 outlets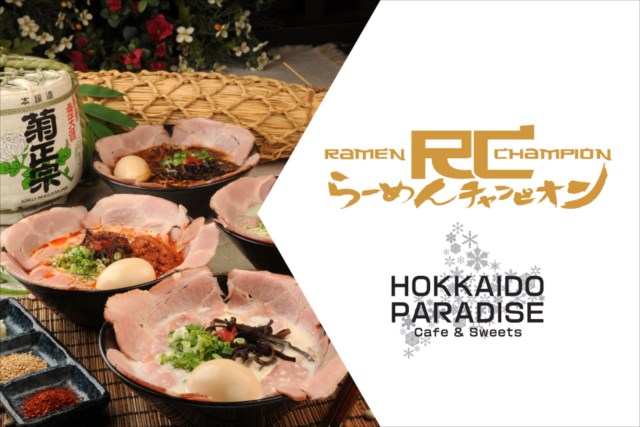 Ramen Champion competitions are held annually in all of the major cities in Japan. Organizer of ULTIMATE RAMEN CHAMPION SINGAPORE, Komars Group brings the best from the different cities in Japan.
There is more to ULTIMATE RAMEN CHAMPION SINGAPORE than just an epicurean treat. Ordinary shopping malls have food courts; BUGIS+, Clarke Quay Central & T3 have Ramen "Stadiums" where residency is determined by a competitive & friendly customer voting system. Diners vote to determine the ultimate winner & who should leave the arena.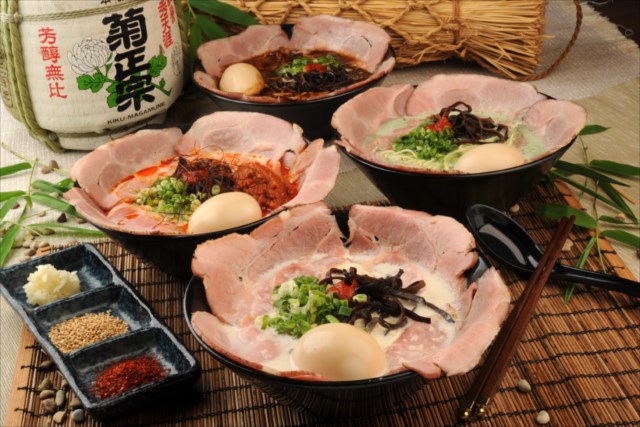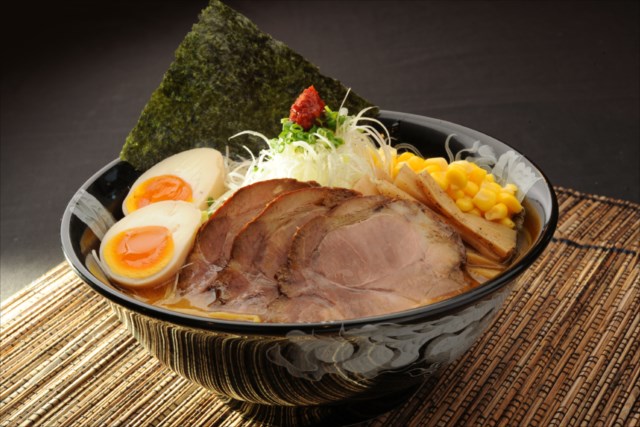 Ramen Champion competitions are held annually in all of the major cities in Japan. Organizer of ULTIMATE RAMEN CHAMPION SINGAPORE, Komars Group brings the best from the different cities in Japan.
There is more to ULTIMATE RAMEN CHAMPION SINGAPORE than just an epicurean treat. Ordinary shopping malls have food courts; BUGIS+, Clarke Quay Central & T3 have Ramen "Stadiums" where residency is determined by a competitive & friendly customer voting system. Diners vote to determine the ultimate winner & who should leave the arena.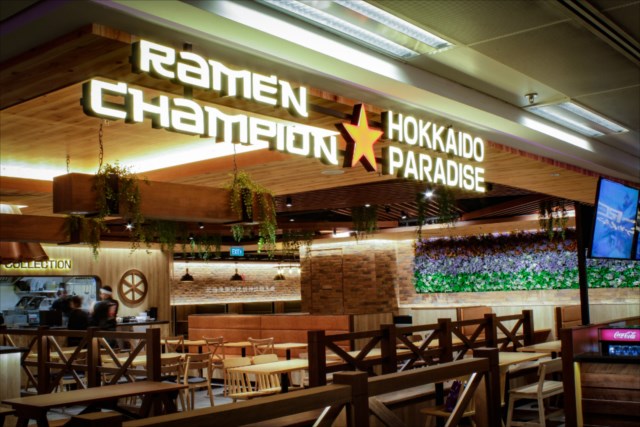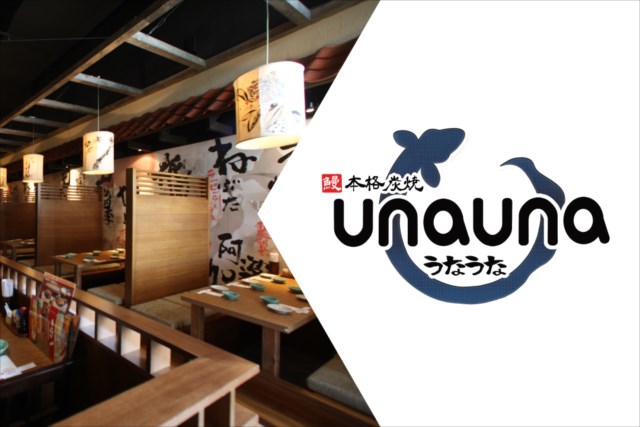 Brand new Unagi speciality concept restaurant located at Bugis+. Affordably priced for the student crowd, Una Una offers fresh charcoal grilled unagi that does not compromise on its quality.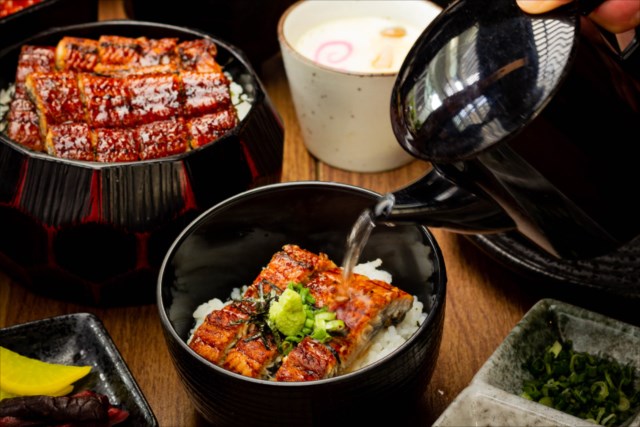 Prized for its flavors & stamina-giving properties. Revel in delight as you watch our Unagi chefs cook up your favorite unagi cuisines over charcoal grill. Slathered with our in-house sweet & savory tare and grilled over hot charcoal resulting in a glistening crispy exterior and soft and tender interior boosting a fragrant smoky aroma. Savor Unagi in different styles, or pair them with your favorite sake at Una Una.
EC House Pte Ltd–Singapore
EC HOUSE – 32 outlets (ec-house.com.sg)
LA Barbershop – 5 outlets
EC Premium – 1 outlet
LA KIds Cowboy – 1 outlet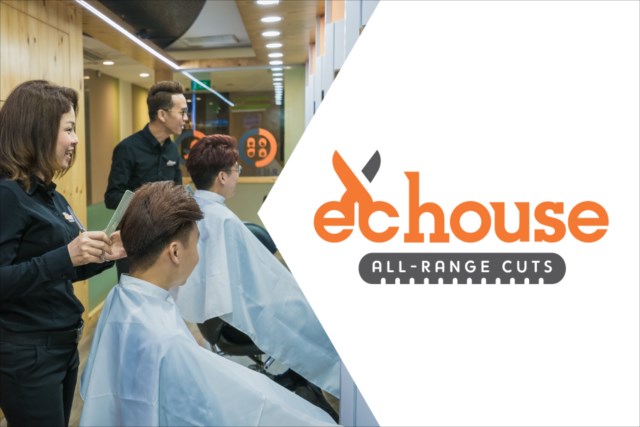 Modeled after the famed Japanese culture for self-service and productivity, we have a self-service payment system and will vacuum customers at the end of the service to clean up their remnant's hair. It is the vision of our founder 10 years ago, who foresaw the potential of the industry and eagerly brought the Japanese inspired concept into Singapore, establishing EC House as the go-to salon for quick, quality haircut. This rising trend of quick cut in Asia catapults EC HOUSE's regional fame in providing quality and fuss-free haircut at the most affordable price. The quick cut and customer experience presented by EC HOUSE has revolutionized the way to get a haircut. Our innovative concept, combined with the latest technology and well-trained stylists, enables us to complete a haircut in just 10 minutes. The fundamentals and core values in our system lie in the charismatic, casual, easy, hygiene and hassle-free approach.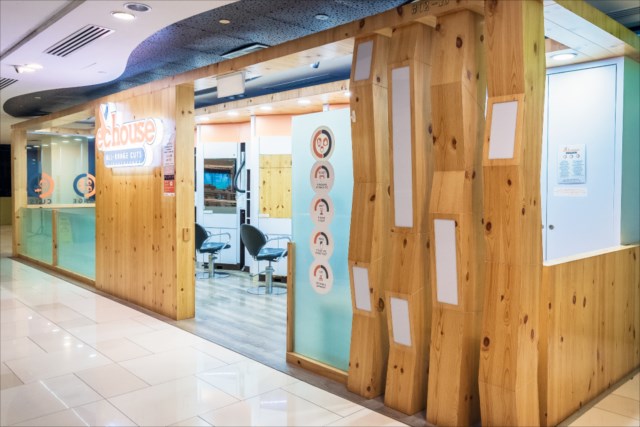 EC House has established a strong position in the local market, comprising of one of the largest networks of express hair cut salons in Singapore. High on its value is to be quick in adopting new concepts and innovative business ideas while providing professional, fashionable and fast haircut. One of such ideas is to target the 1 -9 years old demographic and to incorporate a dedicated kids' corner for specialized children's haircut at selected outlets. The kids' corner is dressed up with attractive display of toys, a dedicated television screen playing children cartoon videos, and a kiddy ride for the child to seat in while the hairstylist snips away. Many salons charge a premium price for children's haircuts, but EC House offers the same service at an affordable standard rate of $12 per cut for both adults and children.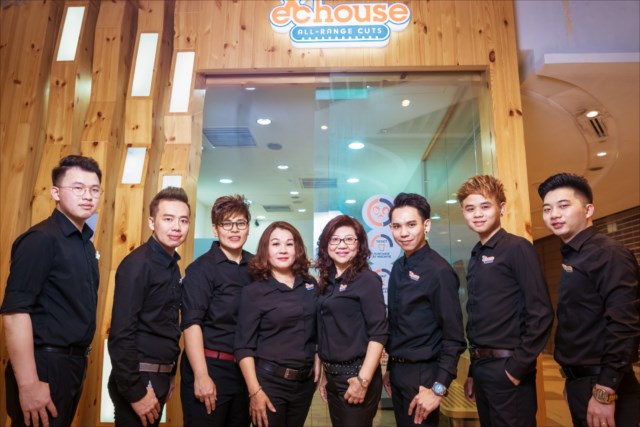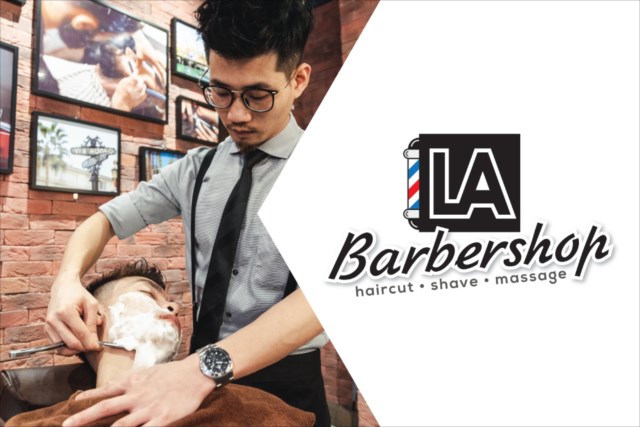 Concept is inspired by the nostalgic English barbershop culture that dates back to 18th century. It aims to bring in the trend from the west, where men would go for a shave to refresh their faces and mind before an important meeting. Or before a date, when they go for a nice trim to keep their hair well kept. When they are tired, they can also go for a shampoo to rejuvenate their senses.
Despite its modern settings, LA Barbershop exudes a homey and inviting vibe. It sets out to provide a nostalgic experience harkening back to simpler day with its red and white pole and where men gathered at the barbershop to discuss everything from business to sports to current affairs. The barber chairs are specially imported from Japan and are designed to depict the traditions of a retro Barber's chair. With full leather and durable upholstery front and back, from headrest to footrest – this is the place where men can fully lose themselves in an oasis of calm.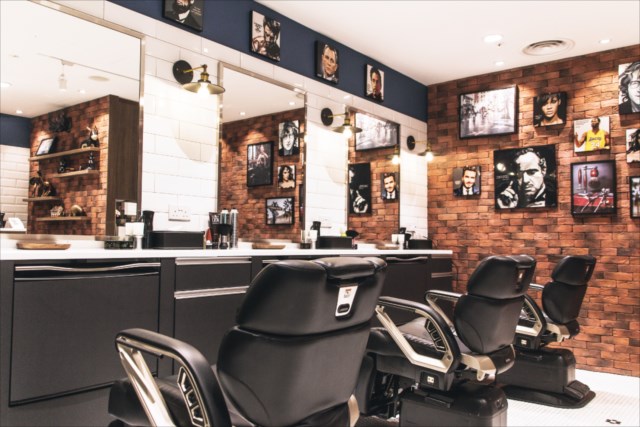 LA Barbershop offers services typically available in mid- to high-end salons at affordable prices. At any one time, the shop only attends to two customers. Hence, customers can expect a personal and cosy experience when they are here. It's also a great father-and-son activity, as they offer both traditional short hair cuts and trendy hairstyles.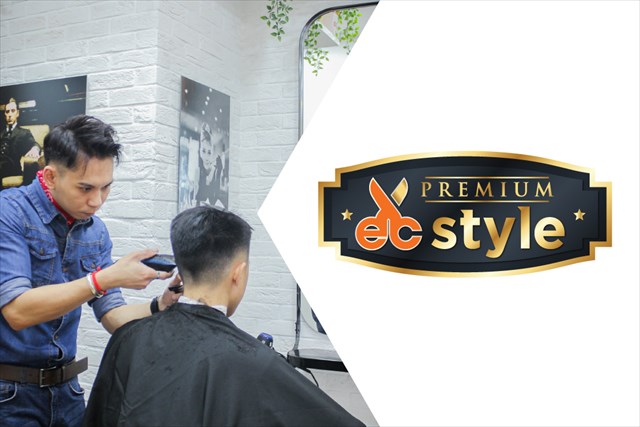 A joint collaboration between EC Style PREMIUM and LA Kids Cowboy, EC House is thrilled to unveil Singapore's first Parent-Child Haircut and Styling concept. Head on down to Vivocity for a day of family fun with haircut and hair styling services, for both parents and children, at a great value price.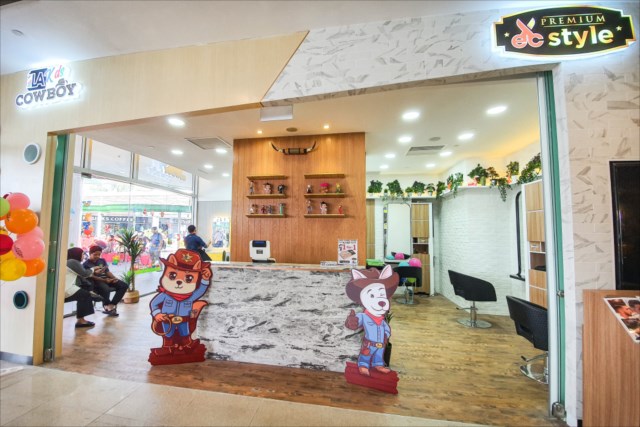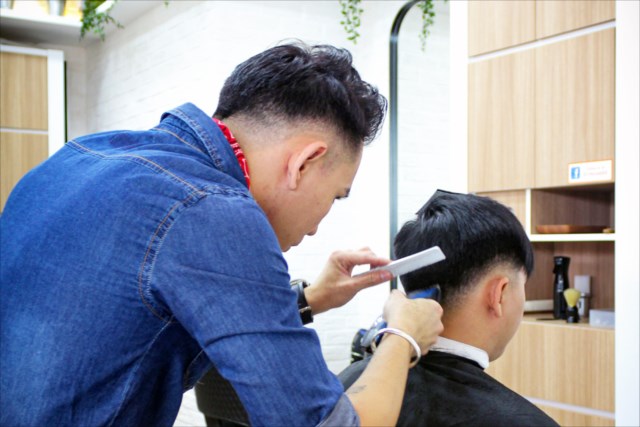 The latest hair concept by EC House offers services from both EC Style PREMIUM and LA Kids Cowboy all under one roof. It is the first EC Style PREMIUM store that features professional hair styling services, on top of the brand's renowned quick and fuss-free haircut services. New quality amenities and queue system also enhances the efficiency.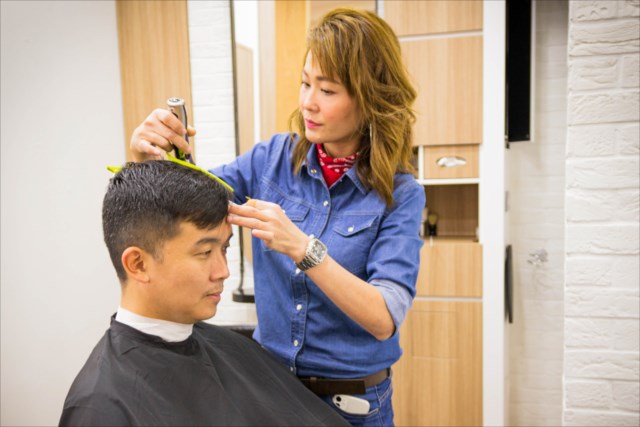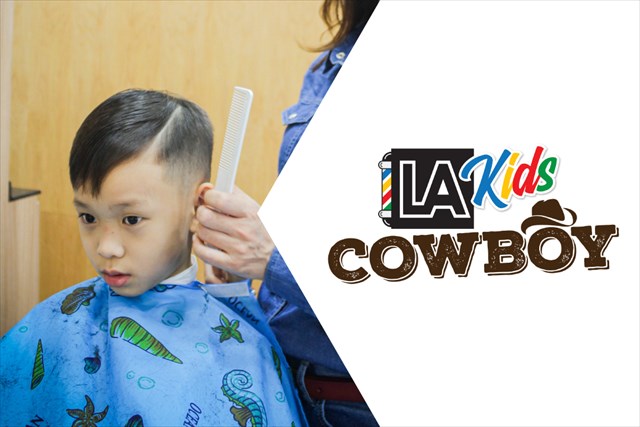 Well-known for their bespoke gentlemen's haircut services, LA Kids Cowboy offers the same sharp, edgy fashionable haircut and styling services for the kids.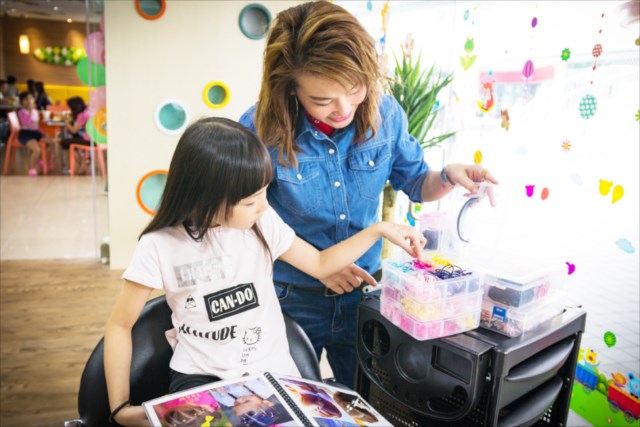 Parents can get their quick hairdo at EC PREMIUM while the little ones get pampered at LA Kids Cowboy. The girls can also get a hair makeover with complimentary hair-tying services and simple hair accessories!
Global Retail Partners Pte Ltd
Eat At Seven – 1 outlet (grpartners.com.sg)
Una Una – 1 outlet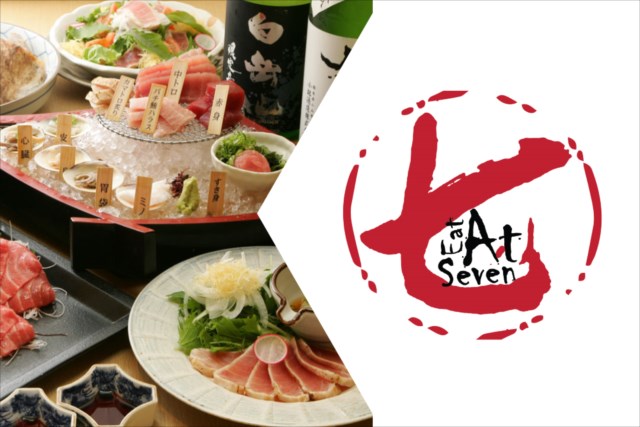 Eat At Seven is a bold, ambitious concept by Global Retail Partners. Global Retail Partners is a joint venture by ANA Trading, local veteran restaurateur Mr Andrew Tan and Mr Koki Matsuda, Managing Director of Komars Group. ANA, being the top airline in Japan, has managed to galvanise seven of the most popular food concepts in Japan to foray into Singapore.
Located at level three of Suntec City's newest Sky Garden, Eat At Seven is home to seven of Japan's top food specialist concepts as well as restaurants. The 600-seater restaurant will span 14,000 square feet. The sprawling belt will include a sushi restaurant, warayaki izakaya, café and more.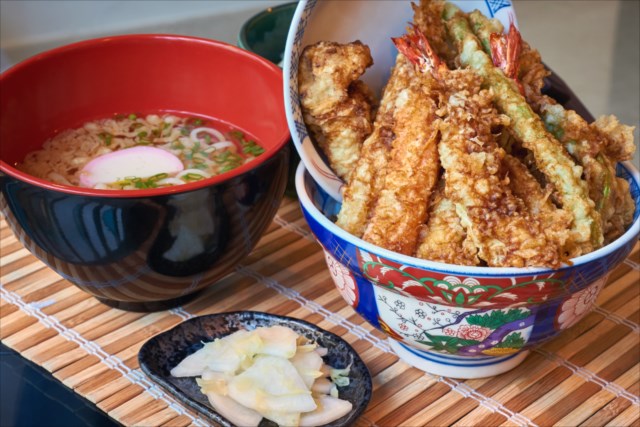 "These seven concepts are recession-proof. Their offerings are affordable for the masses, and to top it off they are superb. Each restaurant boasts a strong reputation —Japanese willingly queue for hours just to savour the cuisines. Japanese cuisines have long been a popular trend in Singapore, and now Singaporeans can enjoy the best of what Japan has to offer, all in one place," says Mr Andrew Tan, Director of Eat At Seven.
MAGURO-DONYA MIURA-MISAKI-KOU SUSHI & DINING: Japan's renowned maguro and sashimi wholesaler now in Singapore for the very first time
NikuNoHi: 23 premium and authentic roasted beef parts at affordable prices
Nigiro Cafe: Tokyo's best Caesar salad is right here
ENBU : Singapore's first-ever Warayaki and Charcoal Grill Izakaya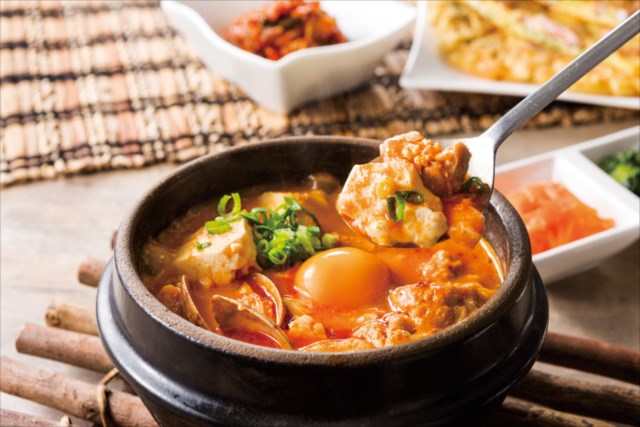 SG Retail Partners Pte Ltd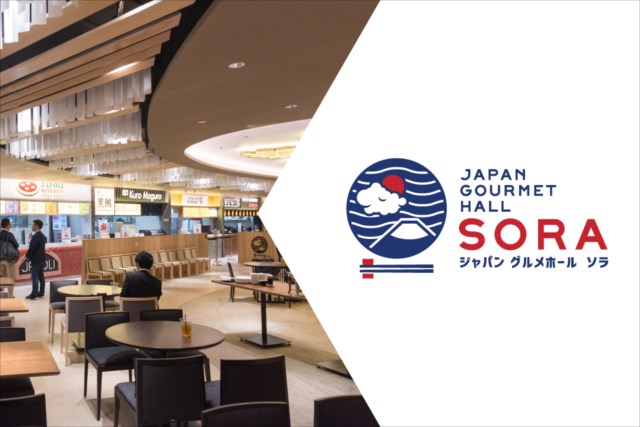 ANA's very first Japan Gourmet Hall outside of Japan, as well as the largest restaurant across all Changi Airport terminals. The dining enclave, which is located at the public area on Level 3, houses six Japanese restaurant brands that serve up an oishii line-up of food including ramen, sashimi, okonomiyaki and Nippon-inspired desserts and beverages. SORA, which translates to 'sky' in Japanese, marks the first time that ANA Trading – the trading arm of Japanese airline company, All Nippon Airways – is operating a food hall outside of Japan.
The 300-seat gourmet hall will bring the best of Japanese cuisine to Changi Airport. All the brands are specially curated based on three key visions: Essence of Japan, Comfort and Affordability.
Diners can order food from any of the restaurants and bar and sit at the shared seating area in the middle of the food hall. Modelled after airline lounges, SORA Gourmet Hall boasts comfy booth and tatami seating options. For tatami seating, diners can immerse in Japanese dining etiquette by taking off their shoes before dining – just like what they would do before entering a zashiki or tatami room. The seating options also come with nifty features such as tables fitted with charging points for mobile electronic devices and an interactive Kid's Corner complete with a playground and a television screen.
Following the success of Japan Gourmet Hall SORA at Changi Airport Terminal 2, together with ANA Airlines, we launched another outlet at Terminal 1, this time showcasing the best Japanese dishes from three prefectures: Fukuoka, Hokkaido and Kanagawa. Modelled after a business class lounge, the 116-seater SORA at Terminal 1 will feature classic favorites from these renowned brands as well as exclusive dishes from three restaurants.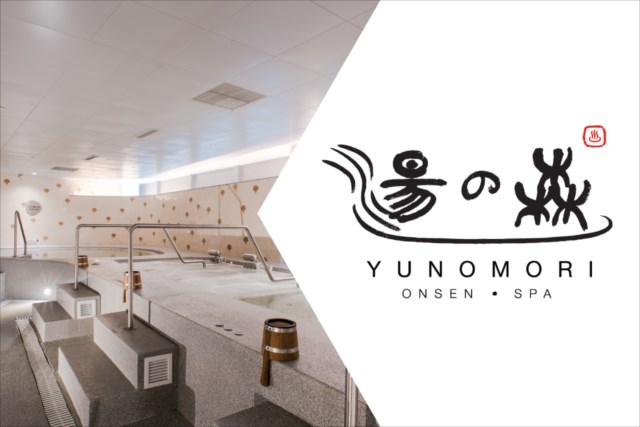 Yunomori Onsen & Spa is the first large scale and authentic Japanese Onsen in Singapore with an aim to provide a holistic retreat with a combination of Thai and Japanese traditional therapeutic wisdom. Apart from introducing a unique and first of its kind Japanese Onsen & Spa offering in Singapore, we will also aim to set a benchmark for our Japanese-perfected hospitality culture, exceptional service and industry leading productivity achieved through process and technology.
The healing properties and health benefits of Japanese Onsen are attributed to the mineral composition and temperatures of the baths. The temperatures and mineral content of these sacred waters detoxify and relax the body, making it supremely receptive to the holistic Thai massage skills of our Spa's expert therapists.
Yunomori is a retreat from the hectic nature of city life. Whether you need to escape for an hour or a day, our Onsen, Spa, Cafe, and Beauty Clinic will nurture you back to perfect health.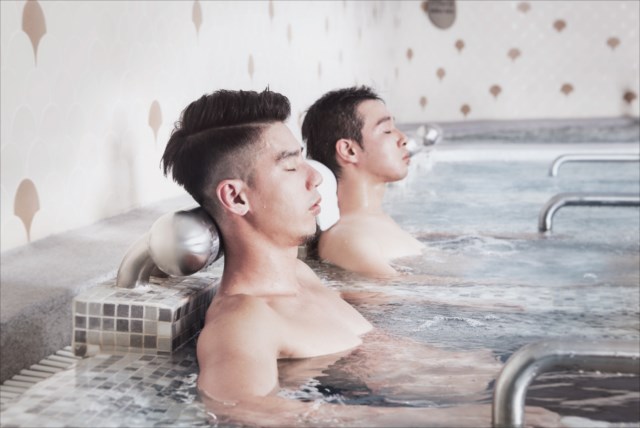 Yunomori offers a wide range of Onsen baths and facilities. From the simple and traditional to the modern and technological, each bath provides a relaxing and therapeutic experience as well as its own set of benefits.
The tremendous rehabilitative benefit through the aquatic therapy of the Onsen will be useful for patients with acute and post-operative back conditions, arthritis, total joint replacements, and sports injuries. It can also athletes improve muscle tone, mobility, balance and endurance. With the rapidly ageing population of Singapore, we believe our Onsen facility has a huge market potential
CYL Scalp Lab Solutions is the first integrated specialist scalp and hair care centre to offer advanced treatments using personalised, custom-blended formulations with eastern and western botanical essences, innovative equipment and Japanese massage techniques. The eastern and western botanical essences used in the custom-blending process are created by a certified trichologist and herbalist.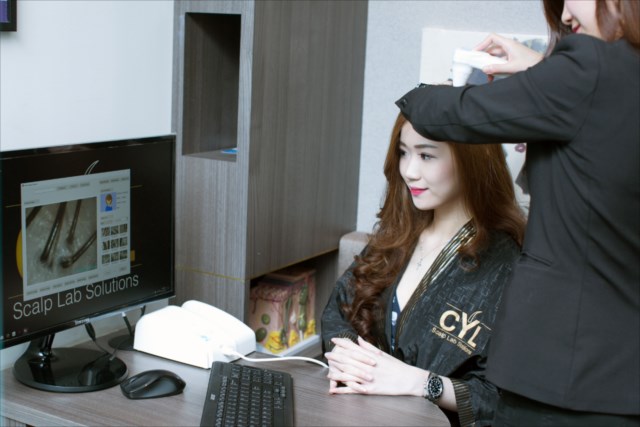 CYL Scalp Lab Solutions is created out of the premise to "Create Your Look" combined with "Scalp Lab Solutions" offering a one-stop place for specialist scalp and hair care treatments with professional hairstyling services in a comfortable and cozy salon and spa environment.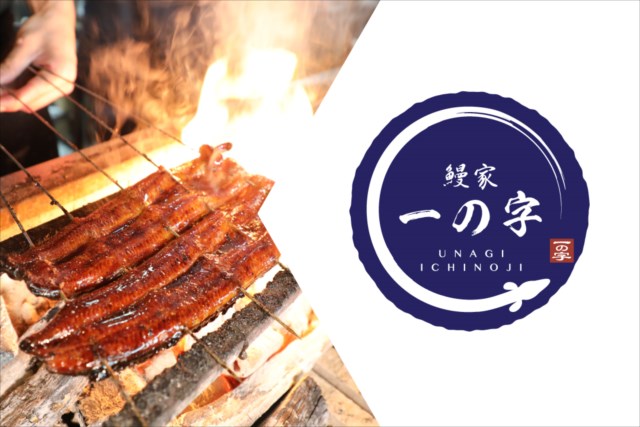 Miyagawa Honten is one of Tokyo's most well-known unagi restaurants, with a history that spans 125 years. Its first outlet was Tsukiji Miyagawa Honten, and it has since grown from strength to strength, now operating 20 outlets in Japan alone. In April 2018, it opened its first-ever overseas outpost in Singapore: Unagiya Ichinoji. Here is where diners can tuck into different traditional renditions of unagi, such as hitsumabushi, seiro mushi and mamushi donburi.
The success of Miyagawa is attributed to the chefs' excellent grilling techniques, temperature control of the charcoal grill and special in-house tare (sweet basting sauce) whose recipe has been passed down for four generations. The Japanese head chef at Unagiya Ichinoji has undergone three months of training at Miyagawa's outlet in Japan to master the skills. The tare used here is specially created by Miyagawa's master chef to cater to Singaporeans' palate. It is less salty as compared with the original version.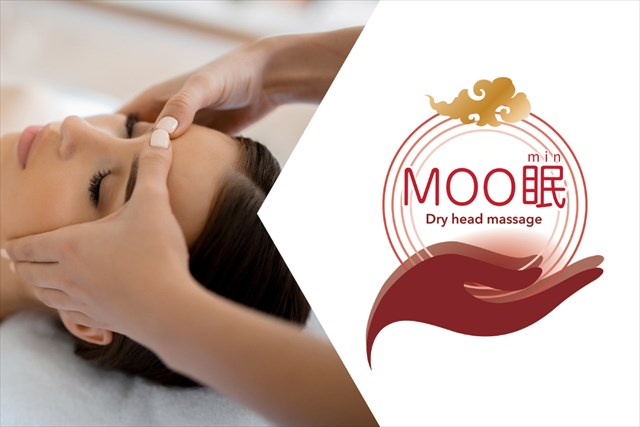 Singapore's first-ever dry head spa, Moomin offers a head massage that provides healing effects to the brain without the use of water or oil. It is aimed to alleviate brain fatigue, which the Japanese believe is caused by an imbalance between the logical brain (in the neo cortex) and instinctive brain (made up of the brain stem and the cerebellum).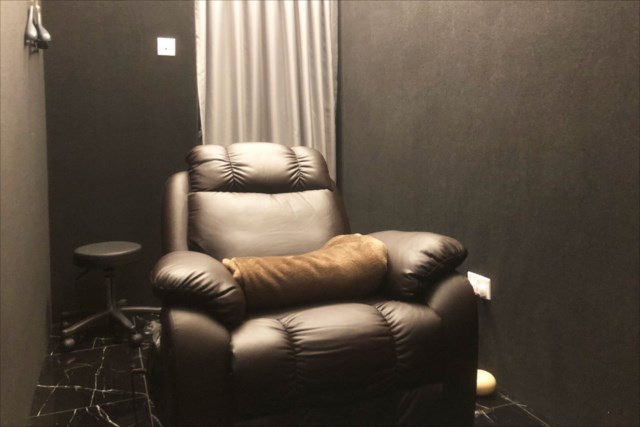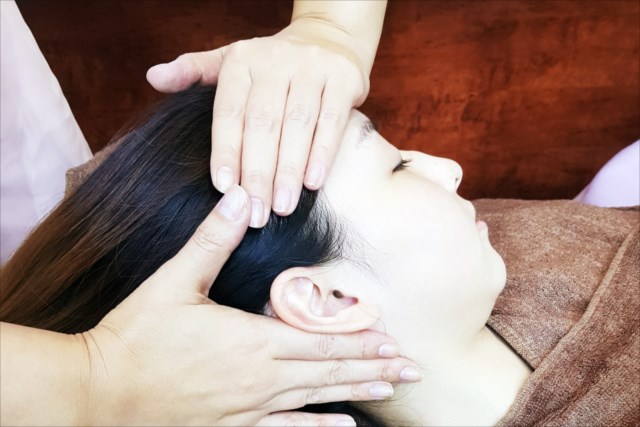 Moomin's massage aims to release the brain from stress. It can also help with insomnia, which is a common sleeping disorder amongst Singaporeans. Unlike traditional massages that require the application of strong pressure and stimulation, this head massage is relaxing, designed to promote blood circulation in the cells by changing directions of pressure, and to lead the brain into a deep sleep. Through light and gentle touches, the therapists will activate the sensory nerve endings on the face and scalp. They will also massage tense muscles as well as blood vessels and lymphatic vessels to help the body excrete the toxins accumulated between the tissues.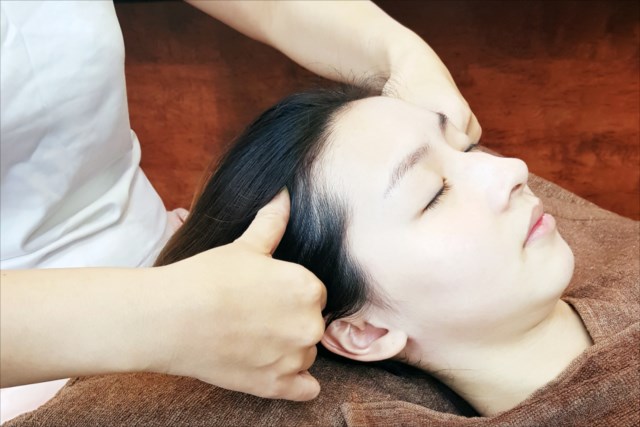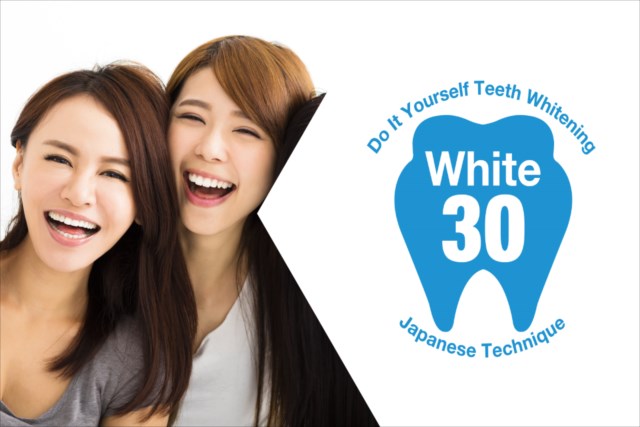 White30 offers a 30-minute, affordable self-teeth whitening treatment. The solvent used in the treatment contains an ingredient called titanium oxide, an inorganic compound used widely in food and cosmetic products, and is safe for oral use. When LED light from a special device is emitted on to the solvent, a photocatalyst effect takes place.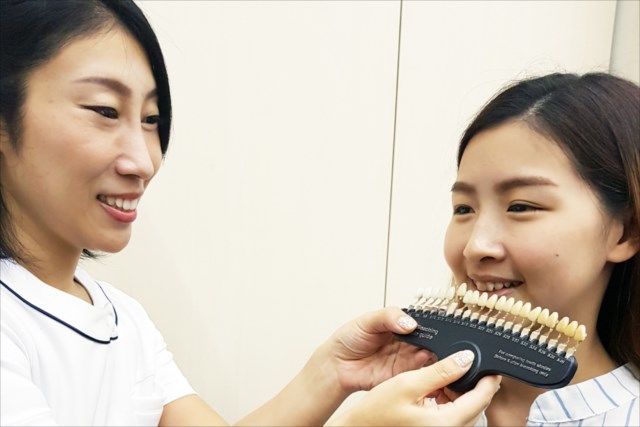 The stain or plaque on the tooth surface is removed, allowing the tooth to regain its original colour and shine. The titanium oxide coating will continue to protect the tooth even after the treatment. The treatment will also offer other benefits, such as disinfection and antibacterial effect.